If you are having problems viewing this newsletter it is available online here.
OvercomeBullying.org Newsletter #012
Get the Support, Tools and Information You Need to Recover
Hi,
Having someone to talk to that understands what it is like to be a target of bullying is vitally important as it helps to know that we are not alone, are not responsible and are not crazy (as the bullies want us to believe). But family and friends soon tire of being a sounding board and many of them just don't "get it". Often they can do more harm than good telling you to "just get over it" or "get a thicker skin".
Finding a support group isn't always easy as many places don't have groups set up. So OvercomeBullying.org has set up a virtual reality support group meeting place in Second Life. (More about that below.) Support groups are a great way to connect with others and helps to lower your stress level. But there are other things you need to do as well. Some things that have worked for others are exercise, nutrition and meditation. But as always keep learning - about bullying, about stress and about techniques that help your mind and body deal with the effects of bullying.
With that in mind I'd like to welcome Richard Schwindt. Richard is a social worker in private practice who truly understand the consequences of bullying. In his first article he gets you thinking about your own path to recovery. Latricia Wilson takes a look at the tragic suicide of Phoebe Prince that, like all too many, has made the headlines recently.
All the Best,
Anton
Anton Hout
Founder, OvercomeBullying.org
Please forward this newsletter to anyone you feel would also benefit from this information. Thank you for your help in spreading the word.
If someone you know has forwarded this newsletter to you, you can subscribe here to make sure you automatically recieve future issues.
In This Issue:
- Virtual Reality Bullying Support Group Meeting Place
- Now Is The Time To Get Wild Divine
- New Articles
- Phoebe Prince Suicide: Driven to Bullycide by Abuse
- Workplace Bullying Recovery:
Getting Help to "Come Back From the Dead"
- eBooks For Targets of School and Workplace Bullying
- Thought for Today
---
OvercomeBullying.org Now In Second Life!
Virtual Reality Bullying Support Group Meeting Place

Have you heard of Second Life? It's an online 3D Virtual Reality Community that allows people to meet and interact from around the world. If you are already in Second Life (SL) I hope you will drop by our Meeting Center. You are welcome anytime - make yourself at home. By the way, in SL my name is Zed Goodliffe, so if you see me there say "hello".
Here is our SLurl: http://slurl.com/secondlife/Azalea/18/187/79/ (You need to already have an account and the SL Viewer software loaded on your computer for that link to work. It will take you to a webpage that lets you "teleport" directly to our property in SL using the SL Viewer program.
If you haven't heard of Second Life you can find out more about how you can create your avatar and go "in-world" with a fr'ee account. (You only have to pay if you want to buy land in SL. There is no cost to join.) More info about creating a Second Life account here.
SL now supports live voice chat. So even if we are thousands of miles apart we can meet in SL and talk to each other directly in the same (virtual) room. How cool is that?
To check out some screen shots of our property in SL visit our Contact us page.
---
Now Is The Time To Get Wild Divine
If you looked at the biofeedback software/hardware from Wild Divine and you've been thinking about getting it -- now is the time! Follow the link below and select the "Super Bundle Pack" button on the left side of the page. This way you get all of their software titles and the biofeedback hardware "Iom" that you connect to your computer and you save 39% over buying each program separately.
Is it expensive? It depends what you compare it too. Not dealing with your stress is going to wreak havoc with your health, is going to cause more problems at work, will leave you vulnerable to the bully and in many cases will result in you losing your job. Now that's expensive!! So from that perspective Wild Divine is the best investment in yourself, your health, your career and your sanity that you can make.
I know I keep going on about Wild Divine -- but I bought it for myself and I know how much it has helped me. It's a false economy to deny yourself tools like Wild Divine while letting stress eat you alive day by day and inch by inch. If you don't take care of yourself, who will?
~ Anton
>> Wild Divine Super Bundle Pack
---
New Articles
Phoebe Prince Suicide: Driven to Bullycide by Abuse
Special thanks to Latricia Wilson who has contributed another article on school and youth bullying. Soon after Phoebe Prince enrolled at South Hadley High school she was emotionally abused by four girls and two boys. The relentless abuse eventually resulted in her bullycide. Latricia takes a look at this tragic story. Who was Phoebe Prince? Why was she targeted for abuse? What tactics did the bullies employ? What did school administrators do to address the bullying?
Workplace Bullying Recovery:
Getting Help to "Come Back From the Dead"
Richard Schwindt M.S.W.,R.S.W. has been so kind as to contribute an article that focuses on one of the greatest needs of targets of workplace bullying... the need to recover and heal from what may seem at times to be a mortal wound. Richard is a social worker in private practice in Kingston, Ontario. In this article he offers a series of "healing statements" that you can use to spur on your own creative approach to recovery.
---
eBooks For Targets of School and Workplace Bullying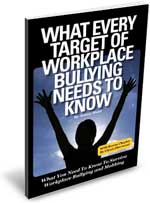 What Every Target of Workplace Bullying Needs to Know
Volume 1, was created by Anton Hout, Founder of OvercomeBullying.org. In Volume 2, Anton and Counsellor/Coach Glynis Sherwood MEd, have combined their 1st hand knowledge and experience helping targets of workplace bullying to create an even more in depth handbook.
You can find more information about the New Edition here
---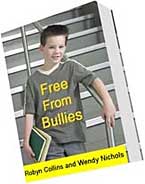 Free From Bullies: Is Your Child Being Bullied at School?
Robyn Collins and Wendy Nichols are teachers with 39 years experience between them. Let them show you:
• The research and facts you need to know
• The serious effects on the victim and the perpetrator
• Steps you can use to take control
• How to solve specific problems
• How to develop self-esteem and resilience
You Can Get Their Guide to Dealing With Bullying at School, Free From Bullies Here
---
Thought for Today
"During times of universal deceit, telling the truth becomes a revolutionary act."
~ George Orwell
---