FTC Affiliate Disclosure
—Many of the products and services we advertise and recommend on this site provide us with an affiliate commission for referrals and we use affiliate links in banner ads and text links throughout this site, including on this page.
What is an affiliate link?
For more information see our
Disclosure
,
Privacy Policy
, and
Terms of Use
.

New iEvidence Child Safety Mobile App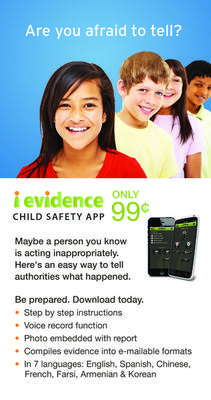 New iEvidence Child Safety Mobile App from Childcare Compliance uses police reports to transform safety. Allows parents, educators, and childcare providers to legally document urgent situations using court-related Preliminary Report


I was reading your blog and thought you may find this interesting. It is a child safety mobile app designed by a prosecutor, mom and teacher to protect children from bullies and predators. It is .99 cents, offered in 7 languages on Android and iTunes.
Join in and write your own page! It's easy to do. How? Simply click here to return to Parents of Bullied Children.