Disclosure:
If you make a purchase via a link on this site, I may receive a small commission, and as an Amazon Associate I earn from qualifying purchases. See the
Disclosure page
for more information. Thank you!
Predictable Bullies
by Tom
(Springfield, IL)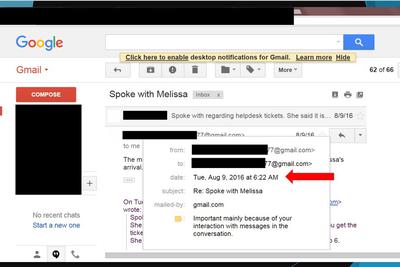 Gmail2
You can predict bullies in most cases only if you don't report them to HR or management. As soon as you tell HR, the bullies will start changing their tactics.

In bullying, no one is on your side except for you - the target, so help yourself and make sure to record everything.
and as much as possible. Record via e-mail, record audio, video and never worry about the stinking LAW because the LAW is not on your side.

In my opinion, LAW is the only word in dictionary that makes me puke by just by saying it.

Here is how I done it;

#1 - I spoke to my VP/General Manager about updates on projects etc...
See image "Gmail2"

After writing the e-mail, in less than two hours, I received ethic and compliance training.
See Image "SAmail2"

According to HR - It is just coincidence.

#2 - A custodian was following me and spying on me for doing my job.
See image "gmail"

Two days later, company wide email was sent to everyone for regarding security procedure.

Unfortunately, we live in a country that slavery was the core of our economy and still is but in a very modern way which doesn't discriminate anyone.

Bullies are afraid of exposure and you want to make sure to expose them.

I did and felt good about it. Never regret it. I know I was going to lose my job one of those day but why not with some exposures on the bullies and the HR.


---
How To Deal With Workplace Bullying:
What Every Target of Workplace Bullying Needs to Know
---