Disclosure:
If you make a purchase via a link on this site, I may receive a small commission, and as an Amazon Associate I earn from qualifying purchases. See the
Disclosure page
for more information. Thank you!

Right Is Wrong And Being Competent Is Bad
by Paul
(Ontario)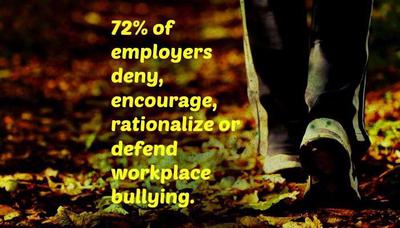 As a new supervisor was being moved to my team a member of her old team warned me this woman would come after me. She told me to watch everything I do as she will be hard on me. I was then told 6 out of 7 men under her supervision went off on stress leave as she made it impossible for them to do their jobs.

I was 13 years into this job protecting children at risk and was easily one of the most creative, professional workers they had. I was the go to guy for difficult families and in 13 years had never had issue with anyone. Then it started I showed up to work one day expecting my car rental as I had to drive 5 hours to complete a ministry standard. I was told I could not go and needed to learn how to adapt and prioritize. Even when I proved the ministry who guides our work has standards and this was one of them she would not permit me to go.

She then sent me to meet another youth when he had another worker already with him and a staff from his home so now three staff at 27 an hour and this kid didn't even know who I was. Later in a meeting she tried to force me to release someone who was a major risk to the safety of your children and I refused on moral grounds and the fact I was a child protection worker.

Suddenly everything I did was wrong and after 13 years of being the chosen one she was trying to tell me I wasn't suitable for the job. I moved dept as my reports to manage my went unheard: while in my new position this lady began lying to my new supervisor saying I wasn't doing the things I was supposed to and was shopping during work.

Turns out the day she said she saw me I was with a union rep the whole day. Still management stated they didn't see any issue with her behaviour. An investigation was ordered as I pushed the issue. The person assigned was himself being talked to by another manager about his harassment of another person so after a whole year they had not finished the investigation. In fact they never did and didn't interview the people who were witnesses to this woman's tirades. And one witness they fired and stated that they couldn't interview her now.

I know what all the people told the investigating manager but in the end they shared no one agreed with me. Those interviewed were outraged. More disgusting was the other staff who played both sides of the issue and go figure used it to launch themselves into better roles basically leaving me hanging.

The union had over 20 complaints about this lady, even from other agencies around town as she is such a nasty person who feels the sun rises and sets because of her. So I took a leave like the others before me and every doc I saw, set up by my insurance company who wanted to send me back to work, knew of this woman and refused to let me go back eventually sending my employer conditions they could not accommodate nor did they want to.

So this woman would not let me do my job, lied to my other supervisor and refused to discuss, would not let me follow the standards in child welfare, and the ED seemed ok with her direction to put a sex offender out on the streets so he would reoffend and police would then deal with him and save us money.

Now I make a fraction of what I used to, am starting all over again, and this woman and her thick as thieves management group continue to put your community at risk as she make close to 100,000 putting your children at risk.

I'm no longer myself, not sure I'll ever be again. The anger eats at me as I know what right and wrong is and these people have now made it so that it was all my fault, I was a hot head who could not follow direction. 13 years, 7 supervisors, only ever had one issue ... Her. This is your tax dollars at work.

It sickens me that her friends were tasked to do the investigation, a guy himself doing the same thing to others and currently under investigation himself. This woman did things that were planned and calculated and she knew she would never be held accountable. We need to have an organization who is responsible for investigating reports of harassment. Imagine a world where we ask criminals to investigate their friend who is also a criminal. What outcome do you think you'll get?

I'm not done with this lady or her boss. I will devote my life to educating others and at some point our paths will cross again and I know she will not be able to make eye contact as she is a coward and a loser.


---
Being Bullied at Work?
What Every Target of Workplace Bullying Needs to Know
---
Join in and write your own page! It's easy to do. How? Simply click here to return to Workplace Bullying Stories.